Although participation in Registered Apprenticeships is at an all-time high, the model hasn't gone fully mainstream, leading to lower-than-ideal awareness and widespread misconceptions about how they work. In this article, we'll look at the top 5 misconceptions we've found about Registered Apprenticeship and see if they hold water.
For those who understand Registered Apprenticeship, the value is crystal clear. It's a proven and time-tested training model first introduced in the mid-1900s, that combines On-the-Job Learning, Related Technical Instruction, and a Progressive Wage Schedule where Apprentices are paid employees as they work to develop their skills with industry professionals, and employers are rewarded with robust talent pipelines in fields where legacy pipelines fall short. Unfortunately, this model hasn't gone fully mainstream yet, which means that the vast majority of people either don't know they exist or have misconceptions about how they work. In this article, we'll take a look at the top 5 misconceptions we've found about Registered Apprenticeship to see if they hold water.
1. Apprenticeships and Internships are the Same Thing
Apprenticeships and Internships may both provide a solid way to build a pipeline of skilled workers through the two differ in many ways that set them apart as separate entities. Interns mostly earn work experience while simultaneously completing an education program separate from their internship and are often not considered full-time employees. Internships usually consist of a shorter program that lasts around 1-3 months, and it is not uncommon for an internship to be unpaid.
For an apprenticeship, participants enlist in a more long-term program that could span anywhere from a year to six years. Apprentices are considered full-time employees who are paid a wage and get trained while on the job rather than completing a higher education program separately. One of the biggest differences between the two programs is the higher percentage of retaining employment within the company after completing an apprenticeship as data collected in 2016 suggests that around 91% of people who completed an apprenticeship retained employment after their graduation.
2. Apprenticeships are Reserved for the Blue-Collar Trades
For decades apprenticeships have been associated with construction and carpentry as the blue-collar trades have long used its model as a recruiting tactic though in recent years the apprenticeship model has branched out more and more into other occupations and industries such as manufacturing, accounting, healthcare, IT, and the medical fields. New programs continue to pop up across the country as in California there's a program that helps low-income women of color become law firm apprentices which also provides a pathway for them to become attorneys, in Kentucky, they recently launched a program that focuses on social care apprenticeships which sees their apprentices join the states Civil Service.
Steven Yoder of Comstock's Magazine recently wrote about the recent shift in participation when it comes to businesses and apprenticeships as he believes that the blue-collar association we have grown used to maybe fade as he states,
"Many experts see apprenticeships as the best way to match people looking for jobs with those that are in demand. A U.S. Department of Commerce study in 2016 assessed the rate of return on 13 apprenticeships in a variety of occupations. A program that trained medical assistants in a New England hospital system had a 40 percent return on every dollar invested. Another for machinists run by Siemens USA earned 50 percent. The 13 sponsoring companies or organizations were unanimous in their support of apprenticeships and cited increased productivity, reduced turnover, and better soft skills among those they trained. Almost no one reported losing apprentices to poaching by competitors. "Apprenticeship is one way," says Michael Prebil, a policy analyst at the Washington, D.C.-based Center on Education & Labor at New America and co-author of a report on California's apprenticeship push. "It is not the only way. We do think it is probably the best way."
Apprenticeships have also seen increasing support as an alternative pathway to higher education that can provide training for careers that were once thought to only be attained by receiving a college degree. Participating in an apprenticeship program eliminates the factor of university debt while also in many cases providing college credit for completed work hours and in some cases can be used to complete an individual's Associates's degree.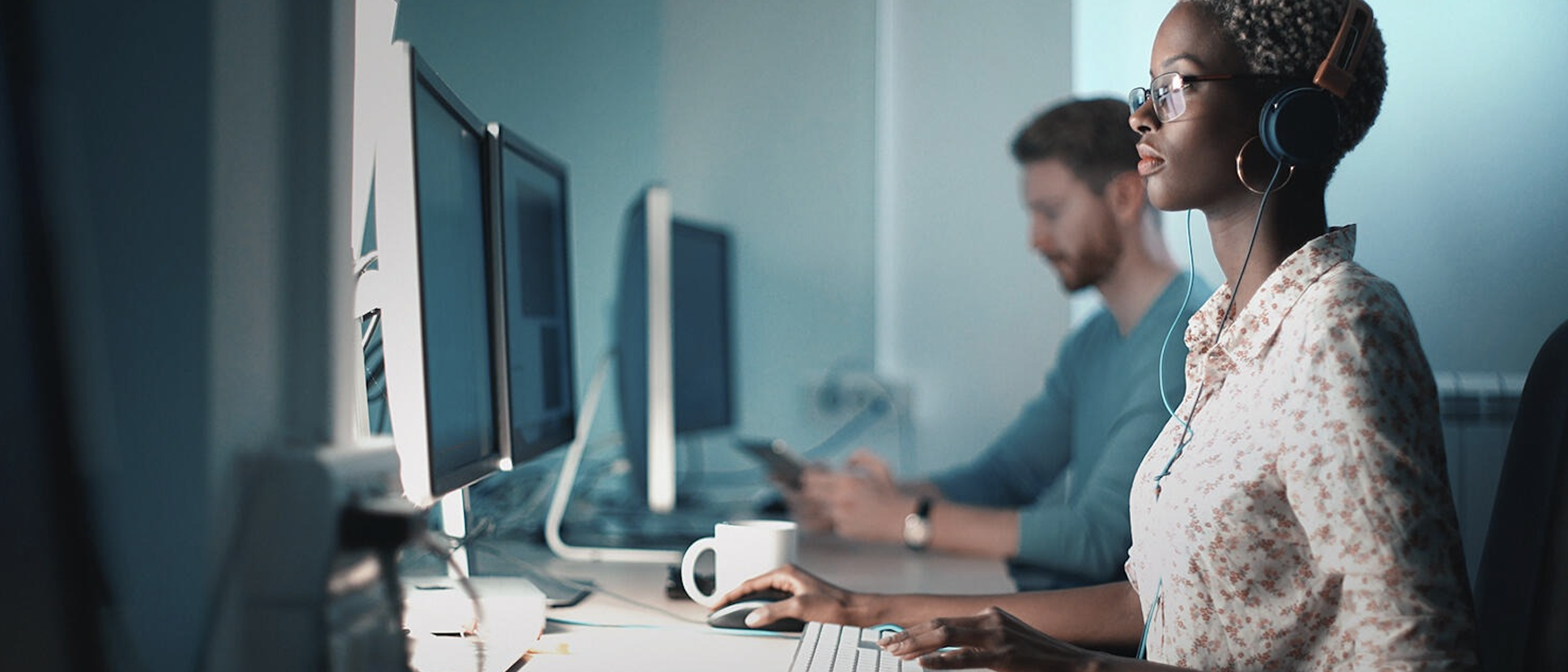 3. Apprenticeships Cost too Much for Employers
When it comes to launching an apprenticeship programs employers are the ones who control how much that program will cost and on top of that they may qualify for state tax credits or wage offsets from on-the-job training reimbursement. Due to the fact that apprentices are trained on the job, the base rate for their pay is around 40%-50% lower than a traditional new hire. With the current worker shortage expected to reach around 5 million within the next year, U.S. employers will be searching for a new way to recruit and enlist fresh talent for their businesses. Apprenticeships can provide that skilled worker pipeline that many are keen on finding to help fill site-specific positions as well as insert productive workers into their workforce.
One misconception surrounding the cost of apprenticeships is that apprenticeships' wages start lower making them a less attractive choice, but the reality is that employers are more interested in investing in their participant's skills than hiring out cheap workers. Many employers pay for extensive training as well as a participant's wages knowing that as a participant grows more productive their wages will increase as many apprenticeships often lead to a full-time position with an average salary of more than $50,000 and a 91% employment rate after completion. In fact, employers who enlist apprentices and apprenticeship programs see a return on investment for registered apprenticeship programs of about $1.50 for every $1 invested in an apprenticeship by the second year of employment.
On top of that, the federal government has invested significant funds in recent years to help boost the development and expansion of apprenticeship programs across the country. States like California, Texas, and North Carolina lead the charge in the expansion of apprenticeship programs receiving grants of more than $10 million to expand and diversify their programs. Apprenticeships can provide their participants with valuable networking opportunities and create a pathway to a full-time position. Classroom training in many registered apprenticeship programs allows apprentices to simultaneously pursue college credit.
The influx of funds comes on the heels of the recent announcement from the Department of Labor that there is around $87.5 million in funding available to states for the purposes of expansion as well as the implementation of new equity and inclusion standards and the programs commitment to adopt those policies. Apprenticeship programs like these will continue to create opportunities like these which will help many companies immensely as the growing skilled worker shortage continues to reach all-time highs. The introduction of this funding will help promote the area's talent pool of skilled workers while also training a new workforce ready to take on in-demand positions.
4. Stigma Around Enrolling in Apprenticeships Limits their Growth
Historically apprenticeships have been viewed as a secondary option for some who may not be "college-ready" though there is strong interest across the board for these programs with little regard to that stereotype as many employers are enjoying the current demand. As of now, there are more than 500,000 active apprentices in the United States across a variety of occupations. Many of these high-profile opportunities are dealing with over-enrollment and have had to turn away applicants due to space issues.
Jessica Shakesprere from Urban Institute addresses the stigma of apprenticeships and combats the misconception that it limits their growth outlining a couple of examples stating,
"Most programs are oversubscribed. For example, the Norfolk Department of Utilities received 150 applicants for 15 slots in their apprenticeship program. In a global context, the US would need more than six times as many new apprentices to be on the same per capita level as England and Australia. The energy around these programs is encouraging. In 2015, the Obama administration funded 46 public-private partnerships with $175 million over five years to expand apprenticeships. And the Trump administration is building off this increased expansion with a commitment to create 5 million new apprenticeships by 2022."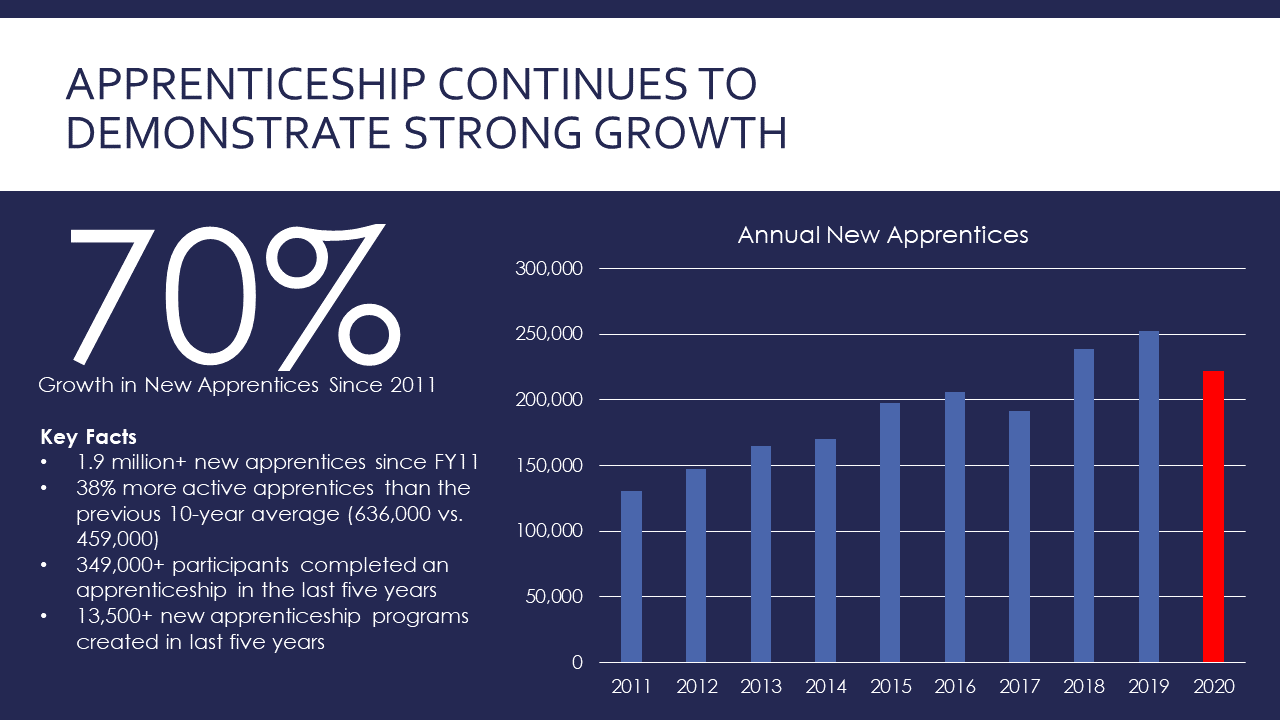 According to The Department of Labor, more than 221,000 new people participated in a registered apprenticeship program in 2020. Across the country, around 636,000 people were involved in an apprenticeship while on top of that since 2009, 3,143 new apprenticeship programs were launched nationwide introducing a 73% growth in that time span. The COVID-19 pandemic represented a 12% decline in new apprentices across the country despite this 2020 marked the third-highest numbers for registered apprenticeship programs.
5. Managing an Apprenticeship Program is Extremely Time-Consuming
In order to run a successful Registered Apprenticeship program, most states require you to track a multitude of data points about your apprentices. These typically include On-the-Job Training/Learning (OJT/OJL) hours, Related Technical Instruction (RTI) hours, Wage Progressions, and State/Federal compliance information. In the past, managing this data was a huge burden for employers, but this is no longer the case. We now have products like ApprentiScope, a platform built from the ground up to streamline the Registered Apprenticeship system for Employers, Sponsors, and Regulators. From an applicant searching for a new career path, to a mentor teaching his or her mentee how to more efficiently execute a task, to an overworked case manager scrambling to put together their quarterly WIPS report, on up to a state agency running reports to discover new insights into their statewide programs. ApprentiScope makes it easy to manage Registered Apprenticeship by streamlining workflows, creating alignment, and supercharging collaboration. Learn more about ApprentiScope here.