What is the Skilled Worker Shortage?
As the United States continues to experience the effects of the COVID-19 pandemic the countries workforce has taken a serious hit when it comes to skilled workers. Though every state in the continental U.S. has fully reopened to attempt normal operation and 70% of jobs lost in the spring of 2020 have been recovered through the skilled worker supply is still significantly down and the need for them is at an all-time high. In a study conducted by the National Association of Business Economics, it was discovered that 47% of its respondents found shortages in skilled workers during the third quarter. That number increased 32% from the second quarter number which was already alarmingly high.
The labor shortage has now been outlined as a headline of our countries recovering economy which has made recruiting for companies extremely difficult. Companies are now having a hard time drawing in potential workers who will help alleviate the increased demand driven by consumers. Around Forty-six percent of small business owners surveyed in June had position openings they couldn't fill which was more than double the average over the past 48 years. As many as 80 percent of employers contacted by the association have said that it's been difficult to find qualified and skilled workers.
What is the Cause of these Problems?
Since the Great Recession, the U.S. unemployment rate among recent college graduates has steadily increased since 2013. And almost half of the recent grads (around 44 percent) are unemployed or completing jobs that don't require a college degree. There are many factors playing into why we have developed this problem but a combination of an unprecedented number of retirements, near-zero growth in the working-age population, declining workforce participation, and lack of interest in certain industries has created one of the worst labor shortages the country has seen in years. On top of that, the effects of the pandemic have not made anything better as many were forced out of their jobs during the spring and many are rethinking their career paths or taking time before returning to work.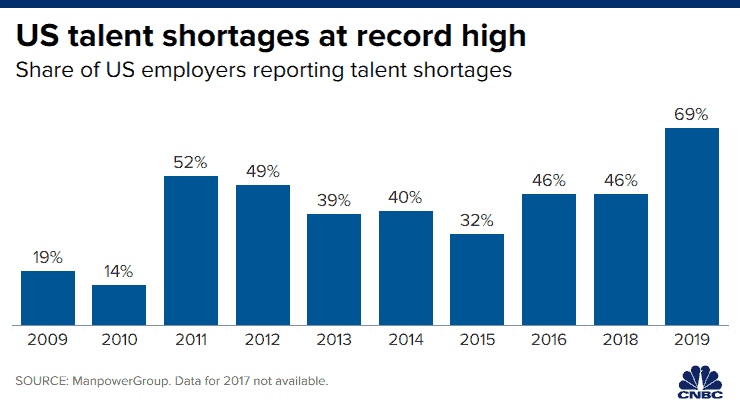 U.S talent shortages graph provided by ManpowerGroup and CNBC
The main problem is quite simple as there are not enough people who have the technical skills to meet the current worker demand. This is partly due to the emphasis our society has put on going to a traditional four-year institution as high school students have been looking to college placement as the best pathway to education despite vocational training, apprenticeships, and trade schools all being solid and viable options.
Sarah Chamberlain from Forbes Magazine discusses some of the reasons we are currently experiencing these drastic shortages as she states,
"This issue is partly due to our culture's emphasis on going to college. Many high schools look to their university placement as the best judge of quality education. That statistic discriminates against students for whom college is just not a good fit, especially when schools do little to inform students of non-collegiate options.
- Sarah Chamberlain, Forbes Magazine
One of the best ways to help address some of these problems is the implementation of apprenticeships. The great thing about apprenticeships is that there's no friction between the candidate and employer. Participants receive a job and employers gain a trained entry-level worker. This kind of model is attractive to different businesses and employers due to the fact they are less expensive and create diverse work environments.
How Apprenticeships Can Help Solve these Problems
During the 1930s the United States experienced a similar shortage of skilled workers. Training programs held by unions and other large businesses were stalled by the Great Depression. The Fitzgerald Act, also known as the National Apprenticeship Act of 1937 would go on set standards and responsibilities for participating apprenticeships hoping that they would receive the training they would need for career advancement in the future. These programs are still used today though they are significantly underutilized as the apprenticeship provides benefits for both employers and participants while providing a wide range of company benefits including eliminating skills gaps and weathering the current skilled labor shortage.
One example of a flourishing apprenticeship program is fast food restaurant chain Chipotles as Betsy Corcoran from Protocol reports on how their business plan focused around the apprenticeship model has helped train workers and increase productivity,
"Even before the pandemic, Chipotle Mexican Grill, like many restaurant businesses, was battling rapid turnover — as much as 145% for hourly workers within the first six months of getting a job. The company also wanted to live up to its mantra of encouraging employees "to thrive and pursue their passion," says Daniel Banks, a senior manager of benefits at Chipotle in Newport Beach, California. In 2016, the company partnered with Guild to underwrite employees' learning — whether they signed up for art history, coding, or other areas. (Chipotle employees get up to $5,250 a year in reimbursement.) Since then, between 15,000 to 20,000 Chipotle employees have taken courses, the overwhelming majority of whom are crew members on the restaurant's front lines. By Chipotle's calculations, the program is working. Employees who are involved with what Guild and Chipotle dubbed the "Cultivate Education" program are 3.5 times more likely to stay and, Banks notes, 7.5 times more likely to move into a management role than those who aren't. Even so, neither Chipotle nor Guild shared how many people have completed degrees since the program began."
Employees who have graduated through an apprenticeship program are often more loyal to their company and are more adaptable to change when performing tasks than those who were hired outside the company. Around 91% of apprentices will go on to stay at the job or company they completed their apprenticeship with and in turn employers receive an average of $1.47 back with increased productivity. On top of that, companies that implement apprenticeships train employees to operate within their facility's culture and environment creating a more cohesive system.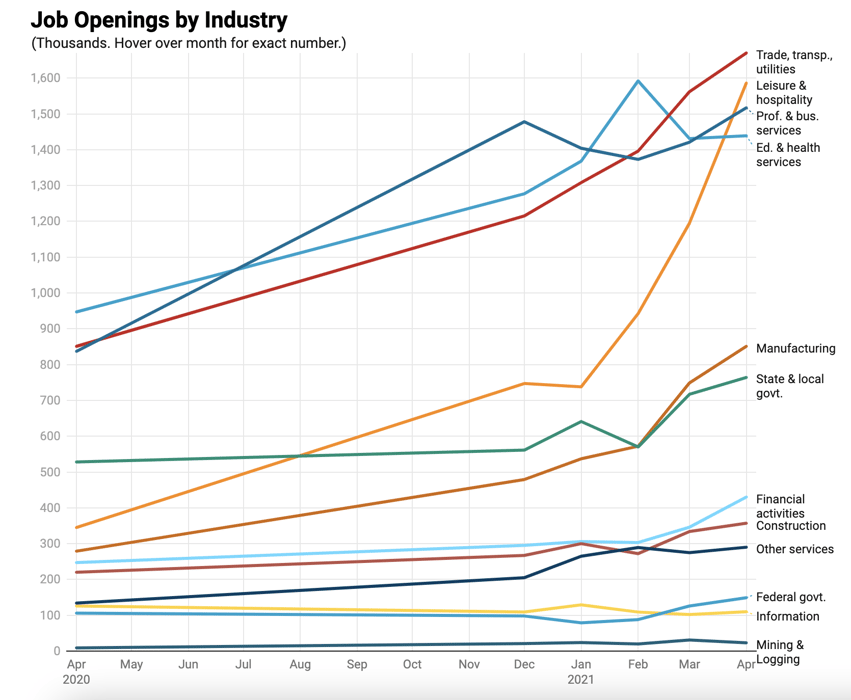 Job openings graph provided by U.S. Bureau of Labor Statistics and Datawrapper
Why Apprenticeships Represent the Future of our Workforce
As we continue to invest in apprenticeship programs the big money funding has also started to follow. With the recent passing of President Biden's infrastructure bill, many of the countries core supply chains will be looking at upgrades something that will drastically benefit apprenticeship programs across the country. Old infrastructures like airports and highways will receive significant funds helping to strengthen our current programs in place while also funding new projects as well. The U.S. Government will also make the largest investment in passenger railroads since the creation of Amtrak. The bill will also aim to build a national network of electric vehicle chargers while also upgrading the power infrastructure in attempts to deliver clean, reliable energy across the country making steps towards achieving a zero-emissions future.
Following the devastating effects caused by the Great Recession, the U.S. job market took a significant hit losing more than 8 million jobs. During this time middle-class skilled workers were hit the hardest and have also taken the longest to recover. What our economy learned from these events is that seeing an increase in middle-class employment shows that the current economy is on the rise and also shows that there is room for improvement. Apprenticeships provide a pathway to higher education while also creating a vast talent pool of skilled workers for employers and paying a living wage to participants creating a positive outcome for both parties. Investing in apprenticeships is the most viable option moving forward because it is a proven model that builds our economy for the better.