With recent successes in programs ranging from Chocolatiers to Cyber Security Analysts, Registered Apprenticeships have emerged as an excellent solution for businesses looking to fill in-demand positions. Registered Apprenticeship programs are proven training models that employers develop either internally or through an Intermediary and register with the U.S. Department of Labor or a State Apprenticeship Agency. Designed to establish cost-effective, long-term solutions for talent acquisition, these programs combine On-the-Job Training, Related Technical Instruction, and a Progressive Wage which creates alignment between apprentice and employer that is unlike any other training program.
What is a Registered Apprenticeship?
Apprentices are paid employees from day one, with no debt, and employers get to de-risk new, inexperienced hires through a wage schedule that is aligned with the apprentice's ability to acquire key technical competencies. Upon completion of a Registered Apprenticeship, apprentices will receive a nationally recognized credential and an offer for full-time employment. In some cases, apprentices also receive college credit or even an associate's degree in programs referred to as "Degree Apprenticeships."
Why start a Registered Apprenticeship?
Registered Apprenticeships can be extremely valuable to companies for a number of reasons. The most obvious reason is to solve a gap in labor since these programs allow employers to essentially develop their own in-house talent pipelines for in-demand positions. Another reason might be to improve new employee retention rates. It's been shown that 91 percent of Apprenticeship graduates retain employment at the company where they complete their program. In other cases, starting a Registered Apprenticeship program can open doors to new business opportunities such as participating in municipal construction projects or other public works.
For a program to become Registered though, there is a formal process that involves completing the necessary steps with the USDOL Office of Apprenticeship or State Apprenticeship Agency.
Steps Towards Starting a Registered Apprenticeship
If your company is looking to start a Registered Apprenticeship there are a few things to do before you start your application with the U.S. Department of Labor. It's recommended to begin by developing your Standards of Apprenticeship – a document that outlines the occupation, training requirements, and other technical details for your program. You'll want to focus on defining the following components:
Business Involvement – Every Apprenticeship foundation is supported by the program employer.
Structured On-The-Job Training – Every apprentice receives on-the-job training from an experienced industry professional during their program.
Related Technical Instruction – Technical education is provided to accompany a participant's on-the-job training often in partnership with a local community college or technical school.
Rewards and Skill Development – Participants receive wage increases upon reaching certain checkpoints throughout their Apprenticeship.
Nationally Recognized Credential – Completing Registered Apprenticeship results in receiving a nationally-recognized credential that ensures employers that the apprentice is fully qualified for their job.
After establishing these standards for your program, the next step would be to register your program. Depending on the state you're located in, you will have to register your program with either the U.S. Department of Labor's Office of Apprenticeship or a recognized State Apprenticeship Agency. These agencies are dedicated to helping provide any technical assistance a potential Apprenticeship program may need including helping to structure the program, prepare the on-the-job training outline, and identify educational partners to help coordinate the program.
If your program is in an industry or occupation that is new to Registered Apprenticeships, then you'll need to provide additional information along with your application, while programs in existing industries or occupations could receive expedited approval.
Identify Sponsors & Educational Instruction Providers
One helpful resource programs can take advantage of is working with your local Apprenticeship agency to help you build out your program as well as help make sure you have completed all the proper documentation. On top of utilizing your local Apprenticeship agency partnering with a local community college or technical school is common among many programs.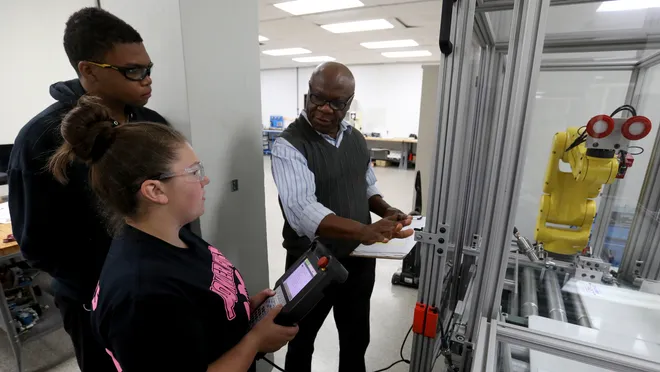 For every Apprenticeship program having an educational partner to help support the Apprenticeships Related Technical Instruction, aspect is necessary for the success of every program. An Apprenticeship program sponsor is an entity that helps an organization administer and operate its program. Organizations can find and locate current sponsors in their area using the U.S. Department of Labors Partner Finder. The Partner Finder tool will help users find educational partners for the desired industry or occupation of your program by allowing users to search by need, name, and state.
The role of a program sponsor in relation to the Apprenticeship is to help to design and execute the Apprenticeship as well as provide jobs to apprentices, oversee training development, and provide the Related Technical Instruction aspect of an Apprenticeship. The programs operate voluntarily and they often receive support by collaborating with community-based organizations, educational institutions, and the state workforce development system.
Build your Work Process & Related Instruction Plan
The key ingredients of any Apprenticeship program are a robust Work Process Schedule and a complementary Related Technical Instruction (RTI) outline. RTI provides apprentices a way to get relevant knowledge of their skills in a classroom setting often emulating a traditional school setting that can in some cases count towards college credit.
With the need for a Related Technical Instruction element for every Apprenticeship, community colleges have begun to play a vital role in helping program participants complete their programs. These institutions will help to deliver programs that work with local businesses to design programs, grant credits & credentials as well as provide supportive services such as tutoring and counseling.
These partnerships have carved out a new initiative that promotes the use of Apprenticeships as a stepping stone to earning college credit for their work. What sets community colleges apart from other program sponsors is the fact that they are uniquely positioned to help upscale the number of high-quality Apprenticeship opportunities and expand programs into industries like healthcare, information technology, and business where workers need educational credentials to advance in their careers.
The other key aspect of an Apprenticeship program is its on-the-job training plan. On-the-job training (OJT) is a hands-on learning experience that helps workers acquire the skills, knowledge, and competencies they need to succeed in their roles.
Every Registered Apprenticeship will need to have a structured on-the-job training plan that shows what the employee needs to accomplish and how they'll do it. In addition to a training plan programs will also be required to track each apprentice's performance such as changes in knowledge, behavior, and attitudes. A great way to streamline this process for any company is to take advantage of an Apprenticeship program management system.
A management system can help you organize your training materials and create a library your employees can use whenever they need to submit tracking hours, increase a participant's wage, or submit a formal report to the U.S. Department of Labor. It can also automate tasks such as assigning training, sending reminders, and even assigning mentors to recruits.
A great option for management software is ApprentiScopes Full-Service Apprenticeship Management Software. At ApprentiScope, we are modernizing the way we implement, deliver, and manage Registered apprenticeships. With a suite of features that allow Employers, Sponsors, and Governments to manage everything from Recruitment to Compliance, we are empowering everyone from Fortune 10 enterprises to Government agencies to scale Registered Apprenticeships.
Conclusion
With the effects of the ongoing COVID-19 pandemic, still one of the most pressing matters in workforce development and skilled worker demand continuing to increase, many businesses have reported workforce challenges citing the inability to locate and recruit skilled workers as the main problem in maintaining a productive workplace.
Offering a Registered Apprenticeship is a smart step for any company that wants to derisk its future access to talent, solidify its competitive talent advantages, and establish long-term employee loyalty. Through Apprenticeships, many businesses have reported higher retention numbers amongst their apprentices as workers express they have a sense of purpose in their roles. Following this trend, recently graduated apprentices will be much more likely to stay with their current employer when they enjoy their work environment while also feeling a sense of purpose.
Despite what many believe, starting an Apprenticeship is not nearly as expensive or time-consuming as people think. There are organizations in every state who are dedicated to helping Employers launch high-quality programs and – depending on the year – are significant State & Federal incentives that employers can leverage to make their programs even more cost-effective. For example, program Sponsors in West Virginia can claim a tax credit for hiring apprentices in a qualified Apprenticeship training program of up to $2,000 or 50% of the actual wages paid during the year.
Starting a Registered Apprenticeship at your company will allow you to build a reliable pipeline of talent that's tailored to your organization's needs, boost retention rates, improve applicant interest, and solidify your competitive edge for years to come.