With the current demand for skilled workers and many businesses still adjusting to the effects of the COVID-19 pandemic industry leaders are looking at ways to restock talent pools and retrain workers for the evolving workforce. The U.S Department of Labor has enlisted apprenticeship programs as one of the most viable solutions to these problems and has allocated significant funds towards expanding these programs across the country.
Training programs that implement the apprenticeship model can also see their employees develop and improve their skills which can only help to benefit an employer long-term while also helping to promote the upward mobility of their current employees allowing the company to source their future managers and supervisors from within their own ranks.
Creating a Pipeline of Skilled Workers and Address Your Companies Skill Gap
Apprenticeships provide a training environment for professionals not just in their specific field, but specifically for your organization. Once participants have completed their program and become full-time employees will apprentices have gained job-specific skills in your company's industry as well as be familiar with your companies' best practices and operations. As our workforce continues to shift and evolve many companies are finding that prospective workers coming directly out of college still lack certain skills required for their fields and are realizing that training workers in-house with methods like apprenticeship programs can help to alleviate some of these gaps while also helping to fill their own needs. Apprenticeships not only help your company to fill gaps in skilled positions, but they also do it in a cost-efficient way that can benefit the development of their skilled worker pool.
In a study conducted by McKinsey & Company around 44 percent of their respondents reported that their company will experience skill gaps within the next five years while 43 percent of respondents reported already existing skill gaps within their organization. When posed the question of what skills are most in-demand currently, there was an overwhelming response for a need in data analytics and IT management.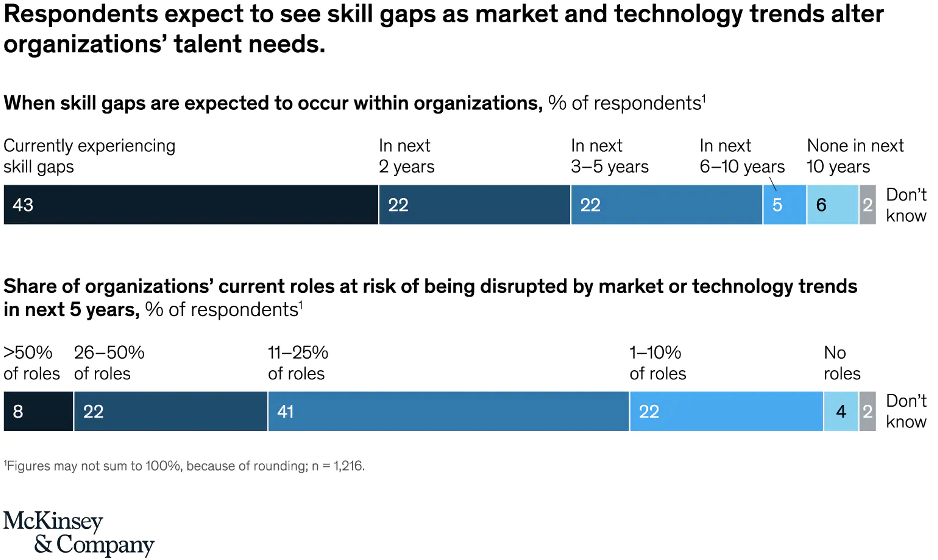 According to the National Apprenticeship Service,
"Employees who have been trained in-house tend to be highly motivated, committed to the company, and supportive of its business objectives. An apprenticeship encourages employees to think of their job as a career and to stay with the company for longer, which reduces recruitment costs. Offering an apprenticeship to an existing member of staff shows that you see them as an integral part of the workforce and are happy to invest in their future. According to data from the National Apprenticeship Service, 92% of companies that have taken on apprentices believe this leads to a more motivated and satisfied workforce and 80% have seen a significant increase in employee retention."
Retention rates remain a big focus within companies around the industry especially ones that may not always be able to rely on their spending power to fill skill gaps. Apprenticeships can be a useful resource when building a pipeline of skilled workers and they provide a more cost-efficient price. Businesses that may not be able to keep up with more corporate company budgets will find apprenticeship programs a valuable tool in stocking their workforce with skilled workers. In fact, studies show that more than 80 percent of companies within the United States that have implemented apprenticeship programs say that an apprenticeship is an effective strategy for helping them meet their demand for skilled labor.
Increasing Your Companies Bottom Line Through the Apprenticeship Model
In an industry study conducted by Training Magazine, it was reported that companies will spend an average of $1,000 per employee when it comes to their training for their specific position. Apprenticeship Programs are a proven training pathway to a full-time career that will help to decrease the amount of employee turnover a company experiences as well as help to produce more productive workers. Apprenticeships can help save your company a significant amount of funds in the long run. This is due to many factors including the decrease in hiring new talent as well as paying less money in wages than they would full-time employees saving your company money right away.
Apprenticeship programs have seen success in bringing businesses savings as well as adding to their overall business. Dartmouth Hitchcock in Lebanon New Hampshire recently piloted an apprenticeship program to help promote both the expansion and reorganization of its medical services unit. The overall cost of their apprenticeship program per participant came out to be around $59,700 per medical assistant which was then offset by a $48,000 per apprentice reduction in overtime costs as well as a $7,000 per apprentice in increased revenue due to medical appointment bookings. This shows that the program basically paid for itself within a year as well as providing an internal return of at least 40 percent. Reducing the use of overtime also helped to relieve staff from burnout and thus also reduced the amount of employee turnover. This kind of success is not exclusive to their program as apprenticeships across the country have experienced similar success.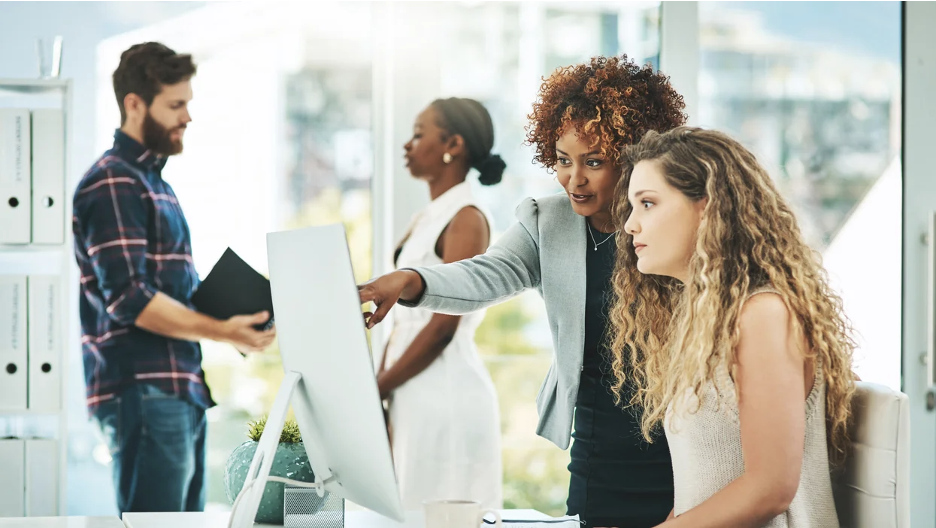 For example, the U.S. Department of Commerce studied multiple programs across the country including one at Siemens Technology. The study reported that,
"Siemens USA obtains at least a 50 percent rate of return on its apprenticeship program, compared to hiring machinists off the street. Most of the gains stem from the way that apprenticeship allows Siemens to more flexibly fill its capacity in Charlotte, North Carolina. The plant makes generators for electric utilities and seeks work repairing generators when it has capacity leftover from making new products. Because apprentice graduates have a strong grasp of the principles of their work, they are particularly well suited for tasks like repair work, which involve more judgment than standard projects. Apprentice graduates' flexibility helps the plant make full use of its capacity. We find that this ability to perform a variety of tasks is enormously valuable. In fact, one year of this additional capacity is worth an amount similar to the cost of a worker's apprenticeship program. Apprentices also were more likely to finish their work on time and were slightly more productive than machinists hired off the street."
A Solution to the Skilled Worker Shortage and Helping to Meet National Needs
As our workforce continues to advance and adapt to the everchanging time's companies more than ever are facing the repercussions of the skilled worker shortage and are actively looking at potential solutions to alleviate these pressures. Recent research has shown that up to around 375 million workers across the world may have to switch careers within the next ten years in order to meet global companies' needs as well as the implementation of automation within our workforce which would allow skilled workers to focus on other fields.
Labor Secretary Marty Walsh recently spoke on The Department of Labors registered apprenticeship programs and how he believes these programs can help to fill gaps,
"Walsh believes the new apprenticeship program meets this pandemic-era labor market moment by helping provide federal funding to workers looking to change industries. "That is the intention, and we have to meet that moment. I think it is important for us to train people and skill them up to be able to get into these new emerging industries, whether it is manufacturing, or IT, or cybersecurity, different areas of employment," he said. When the pandemic started triggering mass layoffs, analysts began to dub the depression-era unemployment levels as a "Shecession," because women were facing the brunt of the job losses. Unlike the Great Recession that hit male-dominated industries like housing, construction, and manufacturing, COVID-related layoffs were concentrated in sectors with higher women representation, like restaurants, hotels, and hospitality.
Keeping all of this in mind many companies are now turning to apprenticeship programs as a viable solution to this ongoing issue and hope that the apprenticeship model can be adapted to this increasingly digital era. The U.S. Government had foreseen this potential uptick and in February passed the National Apprenticeship Act of 2021 focused on funding for apprenticeship programs across the country allocating more than $3.5 billion over a five-year span to the effort. Apprenticeship program supporters are hoping that these initiatives will help to solve a plethora of problems from increasing the diversity of their workforce to retaining these workers for the future of their business. The exchange between apprentice and employer is mutually beneficial and can only help improve our economy moving forward.